ICACA 2021 Conference E-Proceedings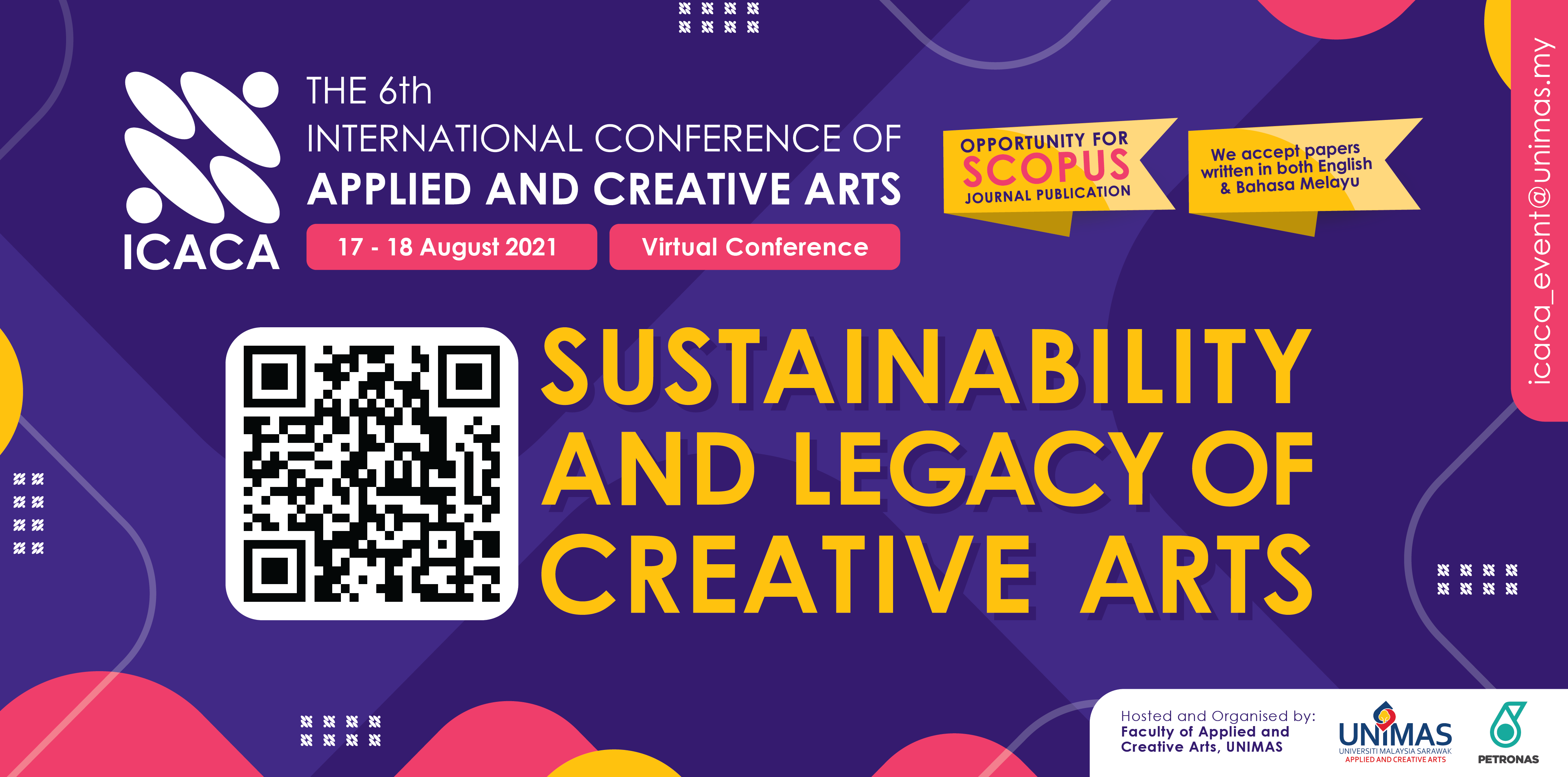 The theme for 6th ICACA 2021 is "Sustainability and Legacy of the Creative Arts".
 Submission of papers should relate to the topics or issues on:
Improving knowledge of creativity, skills, and talent
Issues, challenges, opportunities, and innovative ideas in the field of applied arts and the creative industries
Creative efforts through branding, marketing, and management
Cultural, arts, and heritage management and event management
Maintenance, revitalising, and sustaining traditional arts, crafts, and cultures
Innovation, activities, and strategies in enhancing the legacy of art and culture
Development projects and knowledge transfer which improve the art heritage in communities
Sustaining arts and culture through applied and creative arts education
Research and development for sustainability in art and community awareness
Intellectual property and copyrights
Objectives
The conference aims to achieve three main goals:
To be a forum for educators, researchers, designers, policymakers, implementers, artists, students, and community leaders to meet and discuss various issues concerned with public arts
To share insights, discoveries, and new explorations in aspects of research, work process, management, and marketing of diverse genres of arts through journal publications
To continue FACA's efforts as an art school which shows her continued support for art practices through conferences and scholarly research as well as impactful publications
Manuscript Preparation
Conference paper submissions should be limited to a maximum of eight (8) pages. All submissions will be reviewed in a double-blind manner by at least two Program Committees on the basis of technical quality, relevance to conference topics of interest, originality, significance, and clarity. IJBS will consider selected papers from the conference (selected after internal reviews by the committee), of which IJBS shall do another review before final decision of acceptance is made for publication.

Submission of full papers should be sent electronically to: icaca_event@unimas.my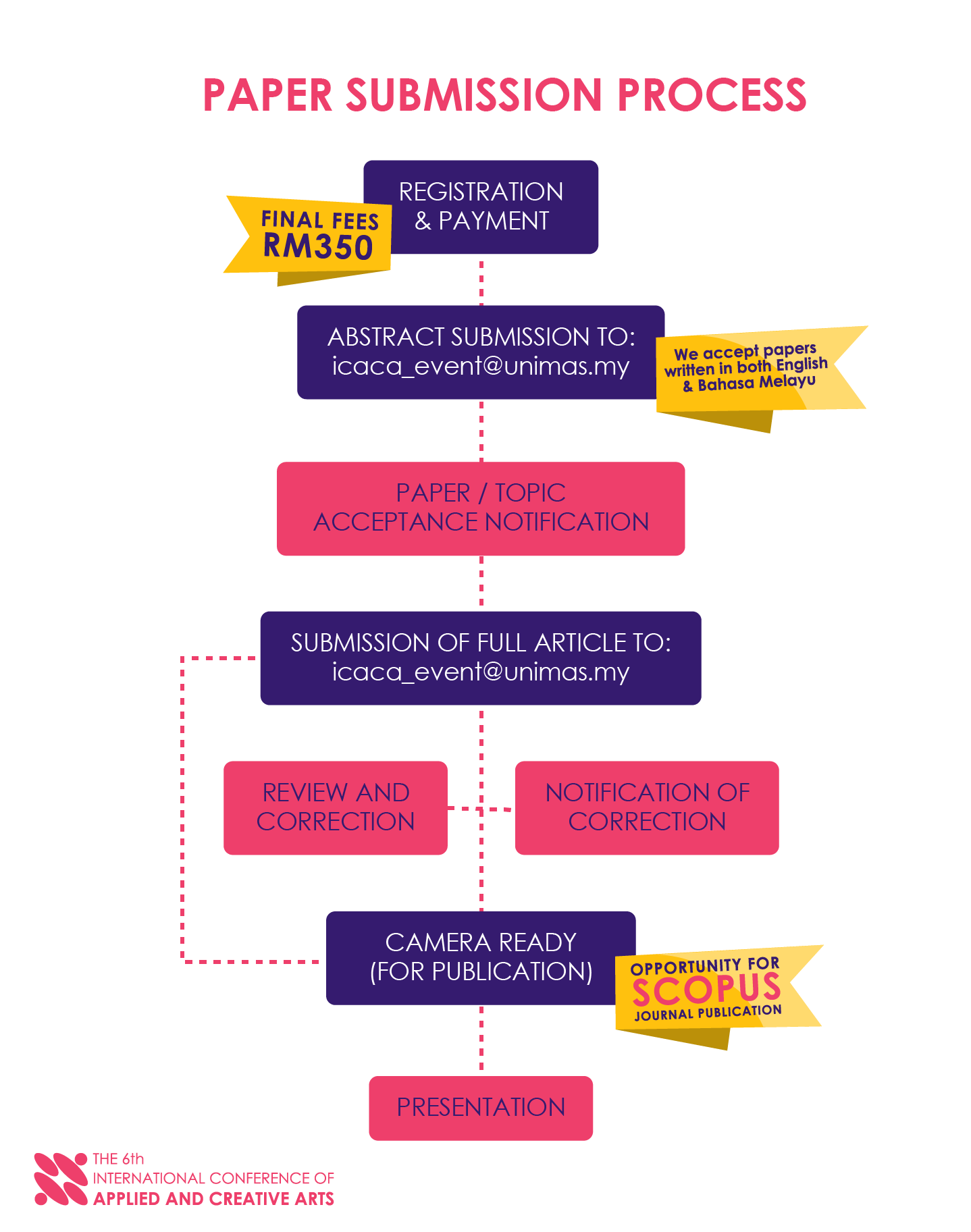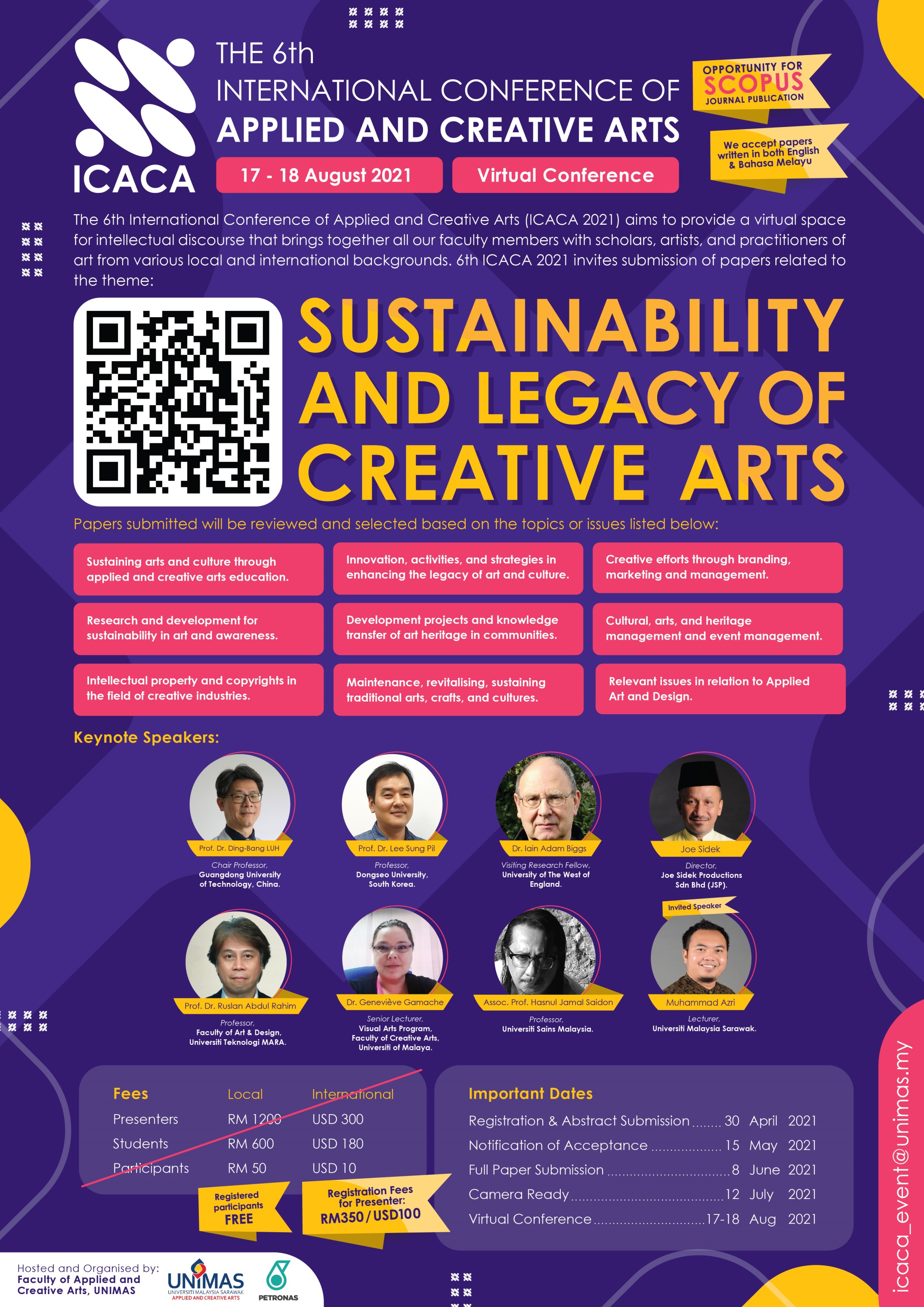 International Conference of Applied and Creative Arts 2021


17 - 18 AUGUST 2021, Virtual Conference
The International Conference on Applied and Creative Arts 2021 (ICACA) marks the sixth conference after 2006, 2008, 2011, 2015 and 2017. This conference is the flagship event for the Faculty of Applied and Creative Arts (FACA), Universiti Malaysia Sarawak (UNIMAS) to provide a public space for intellectual discourse that brings together all our faculty members with scholars, artists, and practitioners of art from various local and international backgrounds. In addition, the conference also serves as a platform for scholars and researchers to establish network and relationship with art enthusiasts, art agencies, creative industries, non-governmental organisations, the public, and higher education institutions within and outside the country. Once again, our Faculty is proud to organise the 6th ICACA 2021 with primary sponsorship from PETRONAS Malaysia.
The conference aims to achieve three main objectives, namely;
To be a forum for educators, researchers, designers, policymakers, implementers, artists, students, and community leaders to meet and discuss various issues concerned with public arts
To share insights, discoveries, and new explorations in aspects of research, work process, management, and marketing of diverse genres of arts through journal publications
To continue FACA's efforts as an art school which shows her continued support for art practices through conferences and scholarly research as well as impactful publications
Download: ICACA2021 CALL FOR PAPER

   
Faculty of Applied & Creative Arts (FACA)
Universiti Malaysia Sarawak (Unimas),
94300 Kota Samarahan,Sarawak.
Tel : +6082 - 581337
Fax : +6082 - 581354
Email : icaca_event@unimas.my